We checked in to our hotel at about 4:30 Sunday evening. After playing at the pool for a while, we went for dinner (all you can eat lobster!!) and some go-cart racing. After the go carts, we found a cool little place with alligator shows. CJ was able sit on a live 5 foot alligator and hold it's head! It was very cool!!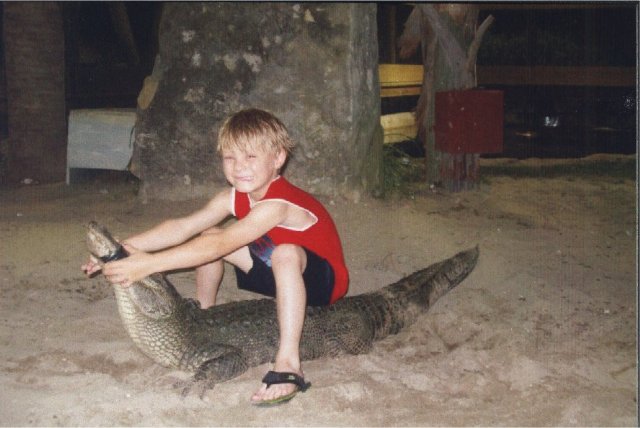 Here are the alligators in the water waiting to be feed...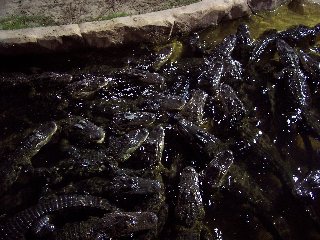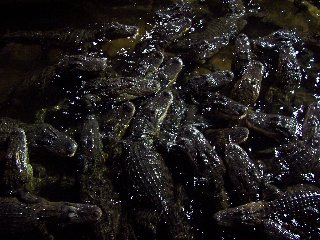 Day 1 - Disney World!!
Here we are at the ticket gate, about to get on the monorail and head for DISNEY WORLD!!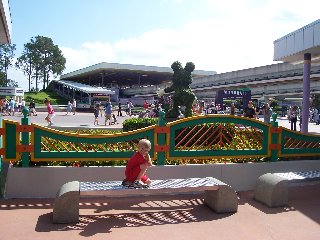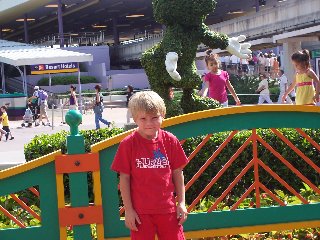 Here we are in the Magic Kingdom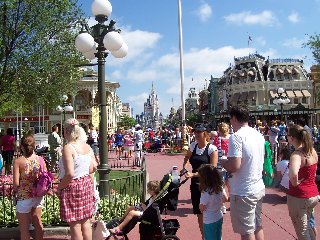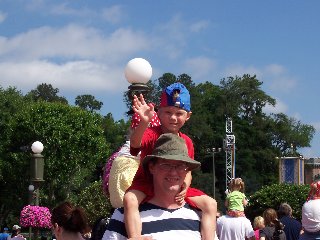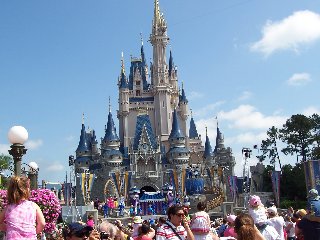 Getting CJ's face painted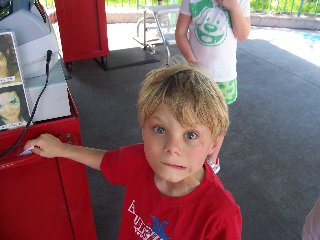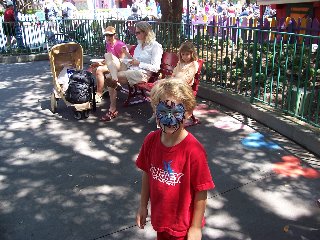 CJ and Jean sitting on Minnie Mouse's sofa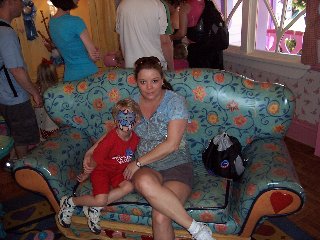 CJ and I on The barnstormer at Goofy's Wiseacre farm. We rode this one a few times :)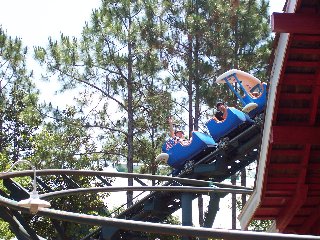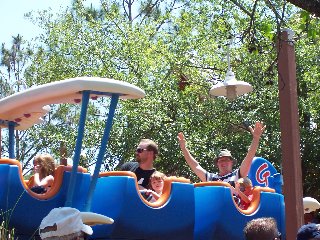 Getting some ice cream before riding more rides!!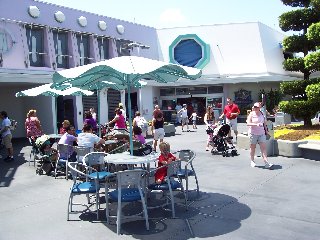 CJ in jail at the Buzz Lightyear ride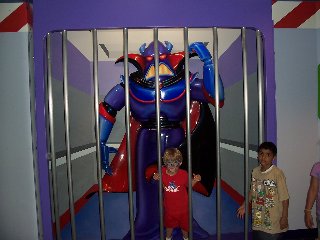 And here it is again, CJ's all time favorite ride, rode it 3 (6) times!!!! SPLASH MOUNTAIN!!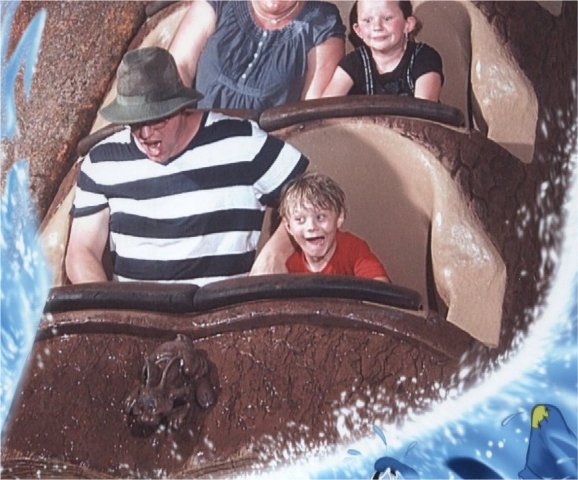 Just before riding Pirates of the Caribbean, none other then Captain Jack Sparrow was there training new pirates! CJ was lucky enough to become a real pirate, sworn in by Captain Sparrow himself!!!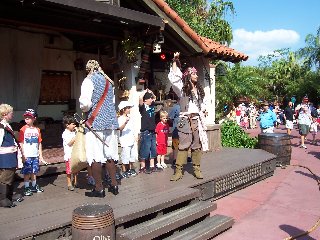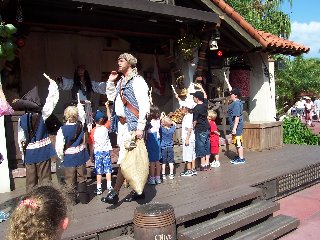 A couple pics from the Pirtates and the Caribbean...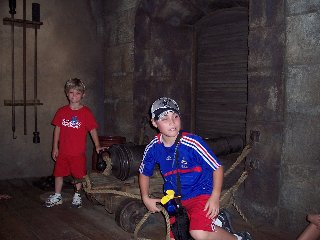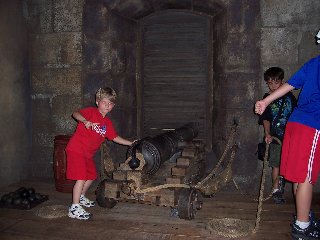 Day 2 - Universal Studios
Here's CJ doing a little surfing before we hit the gate...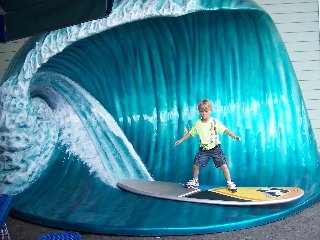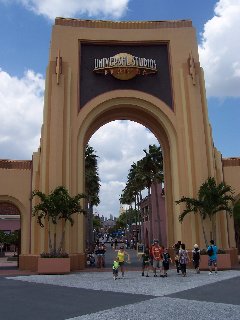 Isn't this a cute picture!!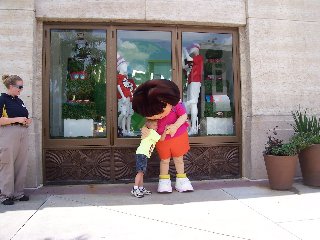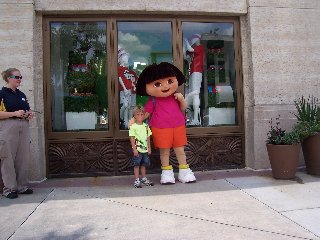 CJ and Sponge Bob
Our boy almost got eaten by a huge shark! Luckily he was able to escape unharmed
After the Simpson's ride, CJ got in to some trouble spray painting on the wall...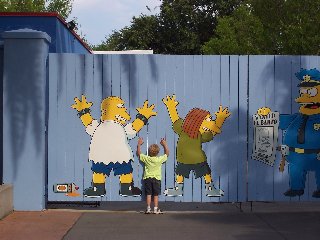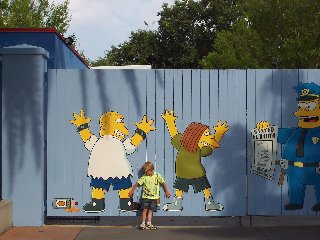 Here's CJ with the Bubba Gump shrimp himself!!!!!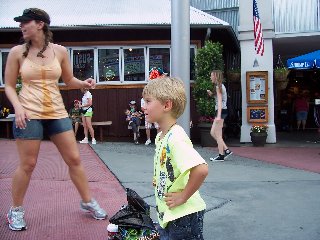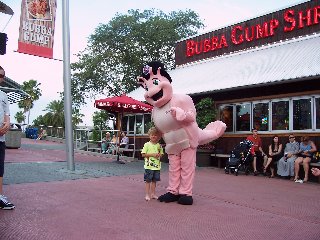 After Universal, we headed back to the hotel for a little more pool time. Then we shot over to Downtown Disney and had dinner at the Rainforest Cafe
We just hung out at the pool on Wednesday before leaving to come home about 6:30. The hotel where we stayed had a huge pool with 2 water slides, so we had a lot of fun. We ended up getting home about 1am - not too bad. CJ slept a little more than 1/2 of the way home and woke up in his bed Thursday morning which was nice. This gave us 4 days at home to rest and play. CJ wanted to go to school Friday, so mommy and daddy had a day too :)
We really had a great time. CJ's favorite things were either the pool or Splash Mountain, hard to tell which he liked the best. He also loved the roller coasters. At Disney, he rode Big Thunder Mountain Railroad twice, Splash Mountain 3 times, and Goofy's roller coaster twice. At Universal, the only roller coaster he could ride was Woody Woodpeckers Nuthouse Coaster, but he liked it pretty good. We rode the Men in Black ride several times, but didn't have to stand in line again so that was pretty cool. They just let us go across a catwalk and get back on. We also rode the Simpsons ride a couple times - that was a pretty cool ride as well. Daddy finally got to ride the Revenge of the Mummy rollercoaster which was just BAD A... it was a very cool ride. Other then rides, CJ really enjoyed the Beetleguese's Rock n Roll Graveyard Revue at Universal
---
Home • CJ Pictures • Jokes • Entertainment • Development