Day 1
We got in to Panama City at about 2:00 am our time (1 am there) on Friday morning. Here's CJ at about 7am - he's up bright and early!
After reading about the remodeling at the Bikini Beach Hotel, we decided to give it a try. This turned out to be a mistake... Although it wasn't REAL bad, it was not where we wanted to stay on our first Florida vacation with CJ. It was your basic hotel room, but with a real bad stale cigarette smell, sticky floors, and dirty carpet...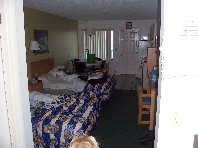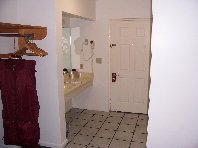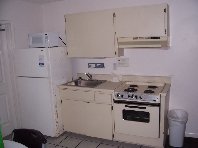 The view from the balcony the next morning. Very pretty view, just wish the room would have been nicer...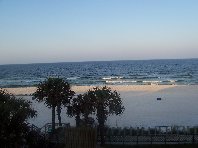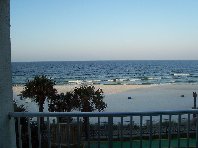 The Commodore Resort
First thing Friday morning, we had to get some things for our stay before heading to the beach. We decided to drive down Thomas Drive and check out the changes since our last visit (which was over 10 years before). I wanted to stop in a few condos and see if I could find another room for our stay, and as fate would have it the first one we stopped at was a winner! We stayed on the 12th floor (CJ's decision) which gave us a wonderful view of the ocean, the room was beautiful, it had a real kitchen, and washer & dryer. As an added bonus, we got a really good deal - stay 2 nights get one free! This ended up costing about the same as Bikini Beach, but was a LOT nicer. By 10 am, we were in our new room and ready for fun!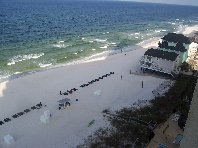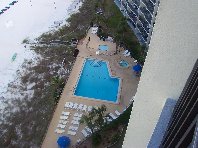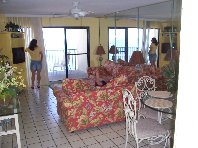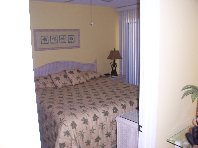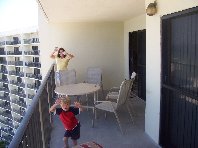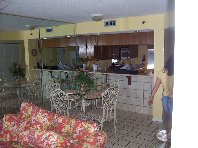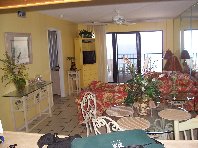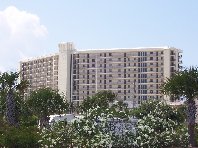 CJ swimming in the hot tub.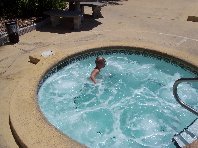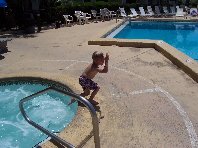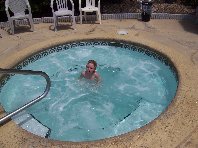 CJ takes a break for some CANDY!!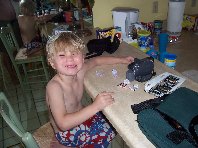 Day 2
Getting ready to hit the beach!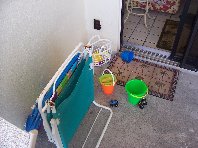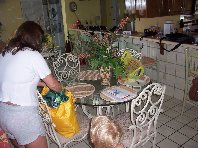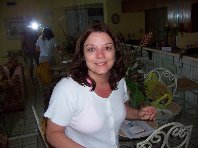 Heading out to dinner. Friday evening we ate at the Treasure Ship, and Saturday we ate at Pinapple Willy's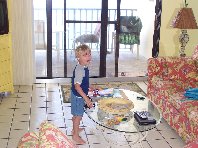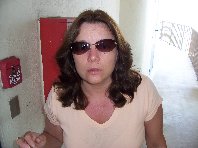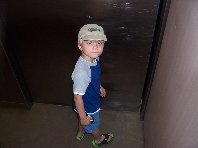 Dinner and Putt Putt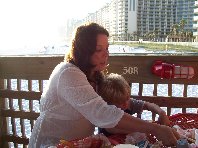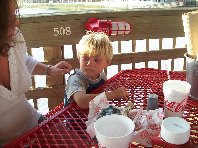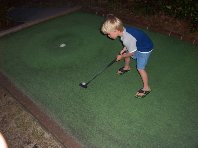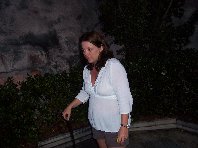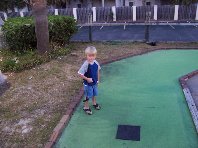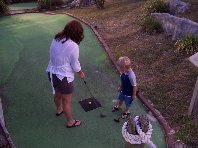 Day 3
Playing on the beach!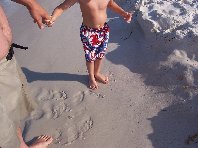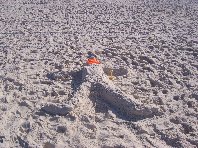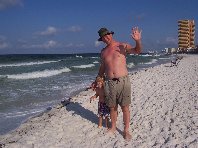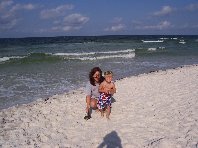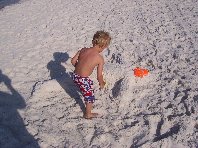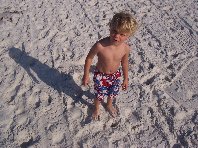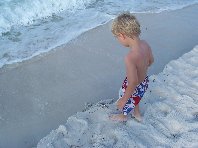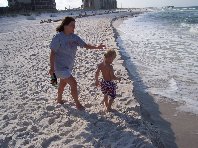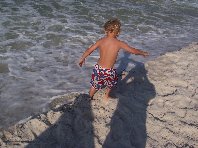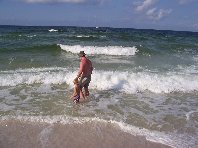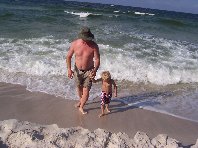 Playing at the pool!
I couldn't believe how well CJ was swimming. He was like a little frog hopping in and out of the pool, diving, doing flips, and swimming. Toward the end of the second day, he could swim from one side of the pool to the other under water, comming up for air 2 or 3 times. I was VERY proud, and he had a blast!!! The shallow end of the pool was 4 feet, which was over his head - be he didn't mind a bit. He was even diving for things on the bottom like our room keys and his sunglasses!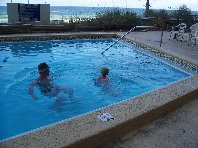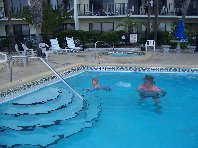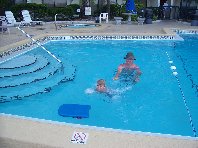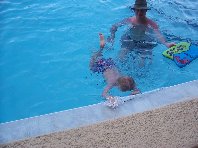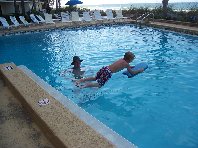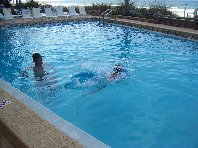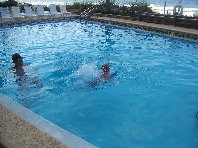 On our last day, we decided to go roller skating - this was a BLAST!! CJ was great, he even won a race!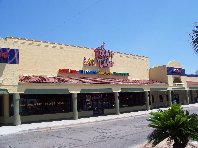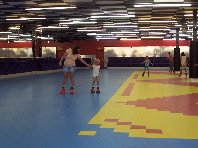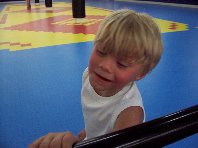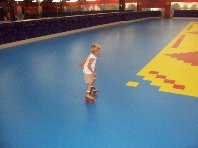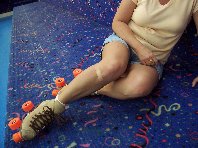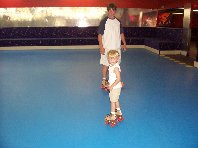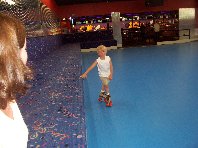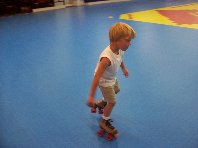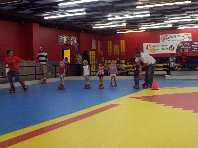 After eating dinner at Captain Jacks Seafood Buffet (very good by the way) and one more round on the Go-Carts, CJ decided it was time to go. We left the condo at about 8:15 pm our time, and got back home at about 2:00. Driving at night is easier on CJ since he sleeps most of the way, and it was nice waking up at home. This also gave us a full day at home before returning to school and work.
Now, time to start saving for Disney World next year!
---
Home • CJ Pictures • Jokes • Entertainment • Development