Eddie's 1998 Grand Prix GTP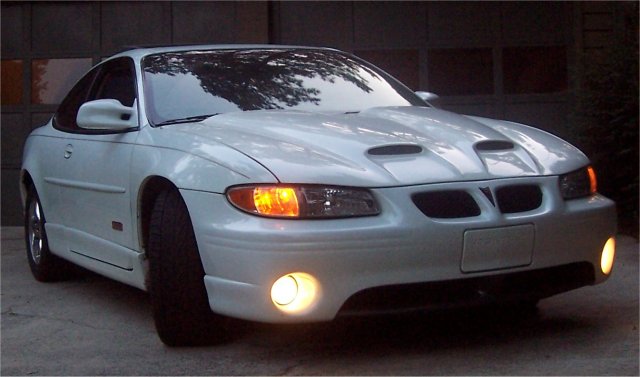 Well, this is my car - and I must say I have never owned a car I liked more! I bought it for my birthday on December 19th 2001 with about 65,000 miles. It was a replacement for the 96 Grand Prix that was totaled
(bummer, I know...)
This was the first car I have ever actually looked for. I had already decided I was going to own another Grand Prix (no GTO available at the time), and I wanted the supercharged engine - so that left me with the GTP. I probably drove 5 or 6 GTPs, and looked at about 10 others before I found this one. I really got lucky. The guy that had it before me (bought it new) was real picky about servicing, so I received the benifits of that!
Sold the Grand Prix on March 26th 2016
Bought it back in March 2018 with a rod knocking - Rebuilding now!!
---
Some interesting Grand Prix Links
---
Dragstrip Times
All times are with street tires in full street trim.
Unless noted, no weight reduction or track prep was done
other then lowering the pressure in the front tires a little.
March 4th 2006
Finally got in to the 13's - 2.033 60' 13.857 sec. @ 98.89 MPH 1/4 mile run. Not bad for a 3800 pound car with 120,000 miles and a lowly V6. Outside temp was about 66* F and the track was pretty sticky. I was in the Good Year lane, and my friend Marshall was in the Summit Racing lane.
Marshall drives a 95 Mustang GT 5.0 with a 5 speed trans, Trick Flo intake and plenum, 75mm TB, 3.73 limited slip rear end, superchip, and whatever was on the car when he bought it.
We don't know what was done to it, but it wasn't stock - it was a good bit faster then a stock 95 GT.
His best run of the day was a 14.1 sec. 1/4 mile. His new PB also!
Click there for a picture of the time slip
November 4th 2006
Drove down to Reynolds Ga last weekend to try out Silver Dollar Raceway. When I got there, I went straight through tech and to the staging lanes. From the time I pulled in to the track parking lot to the time I was at the tree was about 5 minutes - no waiting. My first run was 13.6xx at about 97 MPH - beat my previous PB on the first run! I ended up making a 13.559 second pass at 99.56 MPH for a new PB!
Feb 17th 2007
Another round at Silver Dollar Raceway netted me a new PB. This time I was running 2.93 (stock) gearing with a new trans and a little race fuel (about 3 gallons on top of 3 gallons of 93). I raised timing and leaned it out a little before I made a few last passes - the last one gained me a new PB. I ended up making a 13.540 second pass at 101.16 MPH. I think with more time I could have lost another tenth or so, but I was very happy with the way the car ran!
Click for timeslip
October 27th 2007
First time back to Silver Dollar since the rebuild. I'm pretty happy with the way the car ran. I was hunting that elusive 12.x sec 1/4 mile time, but had to settle for a 13.025 @ 106.81 MPH. The cam and headers pulled a full 1/2 second off of my 1/4 mile time. Now if I can just put those 3.29 gears back in the tranny...
Click for timeslip
Here's a video of a run at Silver Dollar Raceway in November 2007 - 13.03 sec @ 106.44 MPH
---
Modifications
These modifications were done to the car when I bought it:

3.4 inch Super Charger Pulley


72mm Ported Throttle Body


K&N Air Filter in an SLP air box


Dynomax Mufflers


DHP 1.0 High Performance PCM
I added these modifications...

3" Random Technology High Flow Catalytic Converter (8/26/04) - Replaced when the engine was rebuilt -


180 Degree Thermostat


Casper's Hi Speed Fan Switch (9/6/05) - Removed when tuner was purchased -


Pro Magnum 1.8:1 Roller Rocker Arms (1/21/06) - Removed when the engine was rebuilt -



Modified CAI filter box to use with functional Ram Air hood (1/30/06)


DHP PowrTuner (3/9/06)


Ported Exhaust Manifolds - I did these myself. (3/23/06) - replaced by headers when the engine was rebuilt -


Exhaust work - 3" resonator, 3" pipe to 2 1/2" Y & 2 1/2" pipe to mufflers w/ duel tips (4-8-06)


Installed an LS6 MAF Sensor and ported out the old MAF casting in the throttle body (4-13-06)


Rebuilt my transmission this week - that was fun (5-5-06)
Installed shift kit, all new soleniods, and 35 tooth sprockets for a 3.29 gear ratio.


Reman GM Transmission and new radiator installed at 131,000 miles (Dec. 2006)
7 months after the rebuild the transmission cooler in radiator stopped up and fried the transmission!


Installed 42.5# Lucas Injectors (2-20-07)


Rebuilt the engine Looking for around 325 horsepower with this setup (8-22-07)
Chipped a piston on 7-17-07 at 138,500 miles.


Pollyeurathane Upper Engine Mounts from ZZP (9-25-07) - I only use these at the track.


MPS (Multiple Pulley System) with 3 pulley sizes for the supercharger (10-17-07)
3.4" for better fuel economy running 87 octane,
3.2" for daily driving with 93 octane and a 3.0" for the track and 110 octane


HP Tuner Pro (01-25-08)



More cylinder head work! New valves, lifters, push rods, and 1.6 roller rockers (05-05-08 148,148 miles)


Exhaust work - August 2008 Click here for pictures


---
Click here for more pictures...
---
My Tuning Software and References
Binary Editor - for editing and locating tables in the raw binary file
Tiny Tuner - for editing the PCM file.
Table Modifier - for tuning your MAF, VE, and Spark tables
Other Stuff...