Windows 2003 and IIS Page
Let me start by saying, I am NOT any kind of network admin, I have a couple friends that bail me out if I have troubles. Over the past couple of years, I have learned a thing or two about Windows Server 2003 and IIS 6. This page probably will not help network admins, but it may help some novices with problems they may be having. I will post the fixes on problems that I have. My network is in my home, and only my wife and I are using it. That being said, I hope some of the information here may help you.
For reference, here are the components of my network:
:
Computers
Windows Server 2003 SP2 - AMD K7 700 - Active Directory Domain Controller, Web Server, E-Mail Server
Windows Server 2003 - AMD Athlon XP 2600+ - Development Server
Windows Server 2003 - Intel Pentium II 550 - Print Server
Windows XP Pro SP1 - AMD Athlon XP 2100+ - My machine - In domain
Windows XP Pro SP2 - AMD Athlon XP 2200+ - My wifes machine - not in domain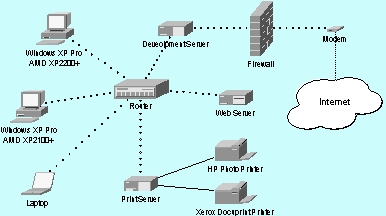 Routers and Modems
NetGear router - with active firewall
Mororola SurfBoard SB4200 Cable Modem
Software Installed:
---
Here are some more helpful links on my page
---
Problems and Solutions
Windows Installer Appears Every Time I Start an Application
Synchronously changing the mail sender name (Exchange 2000/2003)
"No Domain Controller is available for domain..." in event log.
Setting up Exchange Server 2003 incoming mail
I installed Exchange Server 2003 and could not get any email, however I could send it ok. Here is what I did to fix it...
Renaming a domain and keeping your old profile
This works on Windows XP, Windows 2000, and Windows 2003.
---
Downloads
Download Windows 9x Remote Desktop Sharing Client (3.4 megs)
IIS 6 Log Reader
I wrote this small program to view incomming requests to my web server.
There is no installation file, just unzip both files, and run "IIS Log Reader.exe"
---
&nbsp



Home • CJ Pictures • Jokes • Entertainment • Development